Someone on Twitter had asked for some recommendations, and I realized this would not work in 140 characters. We tend to use lots of smaller collections that we can dip in and out of rather than a larger, more expensive reader that will dictate our curriculum. So here's what I use:
poetry
Generally, I put together
my own anthologies of poetry
for students to use from online sources. But we have a few that I use from time to time:
Perrine's Sound and Sense
This is college level with a wide range of poems and detailed descriptions of techniques and methods of reading and analyzing poetry. I use it mostly with MYP5 and Diploma students to review techniques.
Poems from the Past (Cambridge School Anthologies)
I have a colleague who uses this with MYP 1-2. It's quite traditional but covers the techniques well and selects accessible poems from before the 20th century.
Poems 2 (New Longman Literature 14-18)
I really like this collection and I use it all the time for individual poems.
short fiction
Again, I have over the years scanned and found copies of stories I like to use, but here are some anthologies:
Working with Short Stories (Cambridge)
Good stories, good activities.
Global Tales (Longman Imprint Books)
The questions and activities are not great, but the stories are wonderful and really varied. This was the basis of a MYP3 unit at some point.
non-fiction
The non-fiction anthologies I use most are no longer in print, the Oxford Literature Resources on Autobiography and Reportage. However, the other alternative is
Granta
:
For older students, these collections are amazing: I have used them with MYP4-5 and A2 Diploma students.
Models for Writers
(Bedford / St. Martins)
Just a fantastic book. It has short essays organized in a way to identify different elements of the writing process. Great essays, good commentary. My companion for the last 18 years.
historical anthology
Fields of Vision: Literature in the English Language (Longman)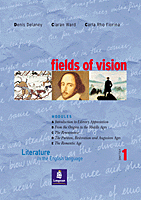 If you are wanting a comprehensive study of English language literature, this one is flexible and accessible. I don't use it with the class, but I do as a resource of my own.
That's what I use. Any others?